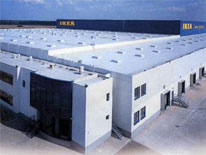 Aqua Seal Tech is synonymous with solid foundation and enterprising vision and astute professionalism. The groups prides on its efficient panels of engineers, technicians and safety engineers. With a specific eye on detail and sense of aesthetics we actually blend modernism with culture to create adorable master pieces. A trusted name in the waterproofing industry internationally for more than 30 years. Our team is very experienced in designing and application of waterproofing systems for particular building or project.

Our expertises in this field are:
Roof and Terrace Waterproofing
Bathrooms and kitchen Waterproofing
Internal Lining of Water Tanks
Planters and Flowers Boxes
Underground Waterproofing for Basements, Swimming Pools, Water Tanks, Tunnels, etc.
Special Application as Pile Head Treatment, Internal Concrete Repairs for Leaked Basement, Injections for Structural Repairs, Expansion Joints Treatment, etc.

We are an approved and licensed applicator for BASF especially for PVC/ TPO membrane, MasterSeal Roof System and we have large experience using these products.

Our objective is to provide our clients with confident experience when we are chosen by them to execute their projects. The importance we give for clear communication and follow-through procedures ensures that client's objectives are top priority in planning and execution of the processes.

We take pride in our delivery, thus our clients can always be assured that only the most experienced and qualified people are serving them.

Our Vision To be a leader in waterproofing solutions, delivering quality services beyond expectation, always.

Our Mission To obtain projects at competitive pricing, provide safe working conditions and deliver quality work within a practical time frame.
Our Suppliers These are some of our valuable suppliers